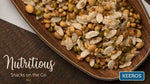 Do you spend your entire day rushing from one meeting to another without finding any time to take a break? Do you end up eating whatever is convenient instead of deciding what is best for your health?

Then you are making a big mistake as eating healthy becomes all the more important to provide your body with the energy it requires to keep going throughout the day.
You need to opt for snacks that combine great taste with wholesome nutrition in order to keep you full, balance out your blood sugar levels through the day, provide you energy between meals, and also boost your overall nutrient intake.
However, what you select as your daily snack and the quantity you eat during each snacking session can make a tremendous difference to your overall health.
These nutritious snacking ideas will help you stay fit and healthy on the go:
1) Boiled Eggs:
75 calories and 6 grams of protein, clearly indicate that a boiled egg is a perfect snack. Plus, eggs are also considered a dieter's best friend. If you don't like the taste of simple boiled eggs, just add a pinch of pepper.

Tip: 
Boil eggs & cut into two slices;' sprinkle some pepper and salt.

You can even have scrambled eggs in a sandwich or on salads.

Just carry your eggs in a small tiffin box and dig in between breaks.
2) Muesli:
Healthy muesli consists of whole oats and other grains. To add a delectable taste you can add fresh dry fruits. Muesli is just like granola, but it's not baked, it's raw and stuffed with a huge amount of fibre. It's an excellent way to catch a quick and healthy breakfast for when you are in a rush.

Recipe:-
Add muesli to a bowl of milk.

Add fresh slices of apple, bananas and

You can even add dry fruits like almonds, raisins and dry dates for extra taste and energy.
3) Nuts:
Nuts are heart-healthy, as they can help lower your LDL (low-density lipoprotein or "bad" cholesterol), and they have protein, fibre and healthy fats. Plus, they don't need refrigeration or heat. The important thing to remember with nuts is to choose the unsalted kind and watch your portion control. Walnuts  (akhrot), almonds (badam) and cashews (kaju) are all great options.

Tips :- Because they're high in calories, you should limit yourself to one serving or roughly one handful. Do that by portioning the nuts into small bags ahead of time so you can eat them while working or running errands.
4) Multigrain Chaat:
How about a snack that packs the punch of 6 supergrains and is also incredibly easy to make?
Whip up a delicious chaat for your hectic work day with this instant recipe.
Recipe : 
Take a bowl of our Multigrain Roasted Supersnacks.

Add in some freshly-chopped onions, tomatoes, cucumbers, coriander.

Don't forget to mix in some fresh lemon juice to enjoy a deliciously healthy snack.
Note: Our Multigrain Roasted Supersnack is lightly salted with Himalayan pink salt. It contains over 84 minerals and trace elements, including calcium, magnesium, potassium, copper and iron, so it does more than just make your food taste better.
5) Sliced Apples:
Apples are extremely rich in important antioxidants and dietary fibre. The phytonutrients and antioxidants in apples may help in reducing the risk of developing hypertension, diabetes, and heart disease. Your mornings can't get better when your go-to snack helps in preventing hypertension and heart diseases.

Recipe:-
Dissolve 1/8 teaspoon of salt into one cup of water,

Add your apple slices, let them soak for a few minutes.

Drain them.

Give the slices a quick rinse in fresh water after you drain them, so your fruit won't taste salty.

Pack the slices in a ziplock bag; they will stay good throughout the day
Finally, if you want something that is healthy and tasty at the same time, then stop fretting as we have the perfect option for when you need to eat while on the go. Power through the day with  Keeros Roasted Supersnacks.
If you want something that is savoury and crunchy, then go for our Multigrain Supersnacks that contain the power-packed nutrition of 6 super grains. On the other hand, if you have a sweet tooth, then you can opt for our Multiseed Roasted Supersnacks that contain the rich sweetness of dry dates and 4 superseeds.