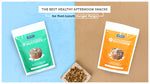 Winter season is all about delicious food and cosy afternoons. As we move towards this sweater weather we'll become lazy and end up eating more; therefore following a healthy and balanced diet becomes all the more important during the winter months.
In winters our body metabolism slows down and this makes us feel colder. In order to keep ourselves warm, we tend to crave more spicy and oil-rich food. Even though these cravings may seem to be overwhelming, we must control ourselves for the sake of our health.
However, controlling yourself does not mean that you have to starve yourself, you just need to make a conscious effort to eat better.
Keeros brings you a list of healthy after-meal snacks to help you plan your mid-meal snacking better.
Here is a list of the best healthy afternoon snacks to keep you in shape this winter: 
1) Jaggery:
Jaggery (gudd) is be an excellent healthy choice for winters as it is rich in essential nutrients like iron and calcium. It also acts as an excellent laxative and prevents constipation by aiding digestion.
Since it acts as a natural detox agent, as it helps in cleansing the liver by flushing out nasty toxins from your body. Jaggery is also loaded with antioxidants and natural minerals like zinc and selenium, which will be helping you in preventing free-radicals which are responsible for early ageing.
Eat a small cube of jaggery after lunch to sweeten your taste buds.

If you are a tea lover then opt for "Gudd wali Chai", replace sugar with jaggery.
2) Munakka:
Munakka (raisin) is treated as an extremely healthy superfood in traditional Indian medicine and is often recommended as a part of the diet of those recovering from any chronic illness. It is considered to be an effective home remedy for your minor health problems, this humble dry fruit is majorly used for garnishing desserts and dishes as well.
Soak 3-4 munakkas overnight, pat them dry and eat in the morning. It contains polyphenolic-a phytonutrient which is good for the eyes.

Boil munakkas in milk. It is excellent to boost your hemoglobin and even helpful to those suffering from chronically anaemic diseases.
3) Amla:
Keeping in line with the concept of Bitter is Better, Amla can be eaten raw, juiced, powdered or simply added to an array of pickles, jams, dips or spreads – in short, including amla in your diet automatically translates into good health as this tropical wonder.

Cures A Sore Throat

Fights Against Heart Disease

Reduces Blood Sugar

Is High In Digestive Fibre

Boosts Immunity
Tips: Even though, eating raw amla is still the best option. Yet if it still doesn't please your palate, then you can opt for amla candies which are rich in antioxidants and vitamin E as well.
4) Sweet Potato:
Poe-tay-toe or poe-tah-toe, this starchy root vegetable is a wholesome, nutrient-dense food that plays a vital role in your diet. Eat them as the starchy portion of your meal; just make sure to prep them right and mix them up with a variety of vegetables to reap varying benefits.
Sweet potatoes are a rich source of fibre and also contains a good array of vitamins and minerals including iron, calcium, selenium etc. Additionally, they're a good source of Vitamins B and C. One of the key nutritional benefits of sweet potatoes is that they're high in an antioxidant known as beta-carotene.
A baked sweet potato with a teaspoon of coconut oil, a dash of cinnamon and sprinkle of sea salt.

Or boil a few sweet potatoes, cut them into small pieces, add a pinch of chaat masala and you're good to go.
5) Gajak :
"Til gul ghya, god god bola" these words of goodwill exchanged on Makar Sankranti with a thought to forget past ill feelings and start afresh. Such is the fame of sesame seeds (til) and jaggery (gudd), that they have been revered for their powerful warming properties through the ages. Here are some more health and beauty benefits of sesame seeds that will help you uncover all the hype around this superfood.
Triggers Hair Growth,

Anti-ageing properties

Boosts Skin Health

Boosts Dental Health

Boosts Digestion

Good Source of Energy

Stabilizes your blood pressure

Helps Fight Stress and Depression
6) Guavas:
Guava is considered the queen of fruits. Besides its unique flavour and fragrance, guava has been hailed as one of the super fruits due to the numerous health benefits it has to offer. It indeed is a powerhouse of nutrients. This humble fruit is extraordinarily rich in vitamin C, lycopene and antioxidants that are greatly beneficial for your skin.
A simple way to snack healthy is by simply opting for Keeros Roasted Supersnacks that are healthy for all, safe for diabetics.
If you prefer something crispy and savoury then opt for our Keeros Multigrain Roasted Supersnacks that offer you the nutritive goodness of 6 super grains and the wholesome nutrition of Himalayan pink salt. On the other hand, if you have a sweet tooth, then you can opt for our Multiseed Roasted Supersnacks that contain the rich sweetness of dry dates and 4 superseeds.
 Have a healthy and snuggly winter with Keeros Superfoods !