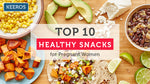 Expecting a child is the most beautiful that can happen to a woman. The feeling of being a life-giver is so empowering. But if you want a healthy child, don't you think a healthy diet is equally important?
Eating in moderation while eating healthy is the key to a happy and healthy life for the mother as well as the child. With the lifestyles we follow today it is really important that we make a conscious effort to eat healthy and be careful. Keeros celebrates motherhood and brings you a list of 10 Healthy Snacks for pregnant women:
Spiced Apples:
If you love sweets, then you will love this one. Spiced apple slices are an excellent option for your sweet tooth and can be prepared by anyone in a jiffy. Just take a nice, juicy apple, peel it, slice it and transfer the apple slices to a glass bowl. Sprinkle some cinnamon and nutmeg powder on top. Microwave it covered, till the slices are softened and then let it rest for a while. Dig in for some warm comfort and fun.
Sprouts Bhel:
The famous Indian street food the light and delicious bhel can be transformed into a healthy bhel for expecting mothers, too. Take some puffed rice (murmura), steamed sprouts, finely chopped onion, tomato and boiled potato along with some finely chopped green chilly (as per your taste) and coriander leaves. Add some sev. Add some tamarind sauce, a pinch of amchur (mango powder), and salt. Mix all these ingredients well. Sprinkle some chaat masala and relish the treat.
Smoothies:
Smoothies can really help you to deal with the constant fatigue or exhaustion and make you feel refreshed. Instead of a store-bought smoothie that is high in sugar and calories, prepare a healthier version at home using any fruit of your choice (avoid papaya) like apple, mango or kiwi. Cut the fruit into small pieces and blitz using a blender. Add milk on it and some ice cubes and blend it again to make a smoothie. Use raw, organic honey instead of sugar to sweeten the smoothie and blend. Your healthy and delicious smoothie is ready!
Sweet Potato Chips:
Grate sweet potato into thin slices and coat them with a bit of cinnamon and sugar. Now bake them for 1 hour at 250 degrees. Check the oven every 15 minutes to check that the chips are cooked properly. Once done, these crispy sweet potato chips can be very delicious and can even be stored for later.
Sandwiches:
Sandwiches are a great way to keep up your nutrition levels while also satisfying your taste buds. You can make different kinds of healthy sandwiches at home by replacing regular white bread with brown or multi-grain bread. Use a variety of ingredients like slices of  cucumber, tomato, potato or radish, onion or anything else you feel like eating. Add a slice of cheese or a chicken patty (cooked properly) and enjoy them toasted, grilled or plain.
Bajra Khakhras:
To ease morning sickness you may try these crunchy khakhras full of carbohydrates. It is very simple to prepare, the way you make parathas! Make firm dough by mixing bajra flour, whole wheat flour, and ginger-garlic paste along with some finely-chopped  green chillies. For seasoning add some sesame seeds, turmeric powder, oil and salt to taste. Roll the dough into chapatis or parathas. Cook them on a hot flat pan using  oil/ghee/ till they turn a crisp golden brown and enjoy!
Carrot and Cucumber Sticks
:
Get a boost of nutrients and fibre with raw carrot and cucumber sticks. Enjoy them with hummus, salsa or a homemade curd based dip. If you have morning sickness, you might find cold and raw food more easy to take in than cooked hot meals.
Make a tasty dip by mixing finely chopped onions (pyaaz), tomatoes (tamatar), capsicum (shimla mirch), coriander (hari dhaniya), and green chillies with hung curd. Just add some salt and black pepper for seasoning, you can also sprinkle in some dried oregano for added flavour.
Curd with Almonds:
Curd is a good source of calcium and it contains natural probiotics that may help you to fight infection. Almonds contain B vitamins (including folate and vitamin B6) that are important especially during your first trimester. You could also make an almond lassi or shrikhand if you prefer.
Toasted Almonds:
Almonds are a great nutritious snack as they come loaded with a host of essential nutrients like calcium, iron, fibre and vitamin E along with a healthy dose of potassium, magnesium, protein and heart-healthy monosaturated fats.
The toasting process is easy, just roast the almonds in a dry, heavy skillet over medium heat for around 1 to 2 minutes or until the almonds turn a rich brown and give off a rich, toasty fragrance. Stay alert during this process as it's quite easy to burn them and stir or toss the almonds frequently to toast them evenly on both sides.  Let them cool down and enjoy a warm and healthy snack. Since almonds are quite rich in nutrients and fibre, you should pace yourself and have 4 to 5 of these nuts at a time.
Keeros Multigrain Roasted Chaat:
Take a bowl of Keeros Multigrain Roasted Supersnack. Add in some freshly-chopped onions, tomatoes, cucumbers, coriander. Squeeze the juice of half a lemon and mix well. You can now just sit back and enjoy a deliciously healthy treat.
Note: Our Multigrain Roasted Supersnack is lightly salted with Himalayan pink salt. It contains over 84 minerals and trace elements, including calcium, magnesium, potassium, copper and iron, so it does more than just make your food taste better, it also boosts your health.
Stay healthy when you're expecting with Keeros Roasted Supersnacks. Our slightly salty Multigrain Roasted Supersnack is perfect for when you're craving something salty and tongue-tingling. Order you bag of healthy and delicious goodness today!
Note: Since pregnancy is a time of changes hormonal and otherwise in your body, always discuss your diet with your doctor.